Pr



Probyte web kauppa
Hardware
Ohjelmistot ja kirjat

LCD näytöt


Alfanumeerinen näyttö
Näyttötyyppi : FSTN Negative
Nastat 2*8 0.1" välein
Laiteen mitat 116x37x13.9mm
Ikkunan mitat 85 * 18.6 mm
Tausta valo LED
LCD 2*20 merkin taustavalaistu sininen
Käyttöjännite 4.5 .. 5.5V
Hinta 15e sis alv

====

WH2004A-YYH-JT 4*20 merkin LCD näyttö
+5V power supply
Character LCD 20x4
Taustavalo LED

Hinta 25e sis alv
==
Olimex PIC-MT-1 Microchip kehityspiirilevy

ICSP/ICD connector for programming with PIC-MCP-USB, PIC-MCP or PIC-PG1, PIC-PG2, PIC-PG3, PIC-PG4 and debugging with PIC-ICD2, PIC-ICD2-POCKET, PIC-ICD2-TINY or is PIC16F87X microcontroller is used PIC-ICD1
DIL-40 for PIC microcontroller
LCD 16x2 alphanumeric display with backlight
2 Buttons
Bi-color LED
Power supply taken from USB port
Virtual USB-RS232 port
20 Mhz crystal
FR-4, 1.5 mm (0,062"), green soldermask, white silkscreen component print
Dimensions 95x36 mm (3,7x1,4")
Four mounting holes
Extension headers for PIC unused ports
Hinta : 20 e sis alv.

===
Olimex Microchip ohjelmointilaite PIC-PG2

Käsikirja(englanniksi)
FEATURES
PIC-PG2 is programmer based on JDM design which takes all necessary signals and power supply from RS232 serial port.
It supports 8, 18, 28 and 40 pin PIC microcontrollers which allow serial programming and I2C EEPROM memories.
Programmer comes with ICSP cable for direct connection to PIC-Pxx prototype boards.
The supported devices depend on the current version of ICPROG software.
Dimensions 50x30 mm (1.95x1.2") + 30 cm (12") ICSP cable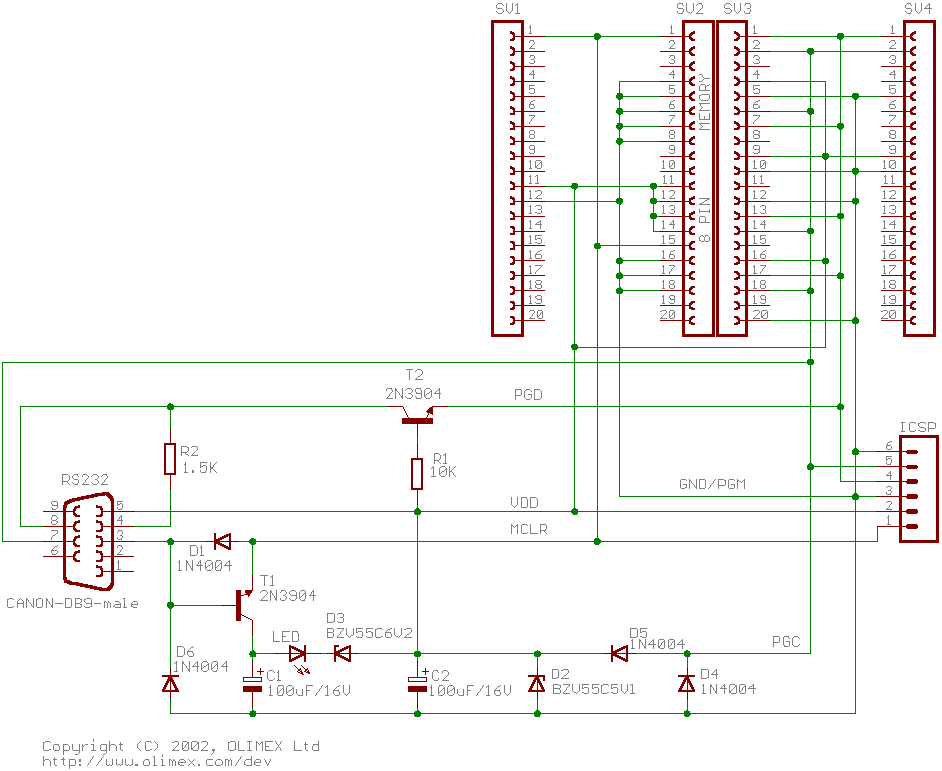 Piirikuva
Ohjelmointiohjelma
Ohjelmoi 12Cxx, 16Cxxx, 16Fxx, 16F87x, 18Fxxx, 16F7x, 24Cxx, 93Cxx, 90Sxxx, 59Cxx, 89Cx051, 89S53, 250x0, PIC, AVR , 80C51 jne.
Hinta : 15e sis alv

Ota yhteyttä : oh3gdo@gmail.com

Probyte Oy
Veisunkatu 17
33820 Tampere
puh 0456012074
probyte.fi




R